Gaîté Lyrique présente
SUNN O)))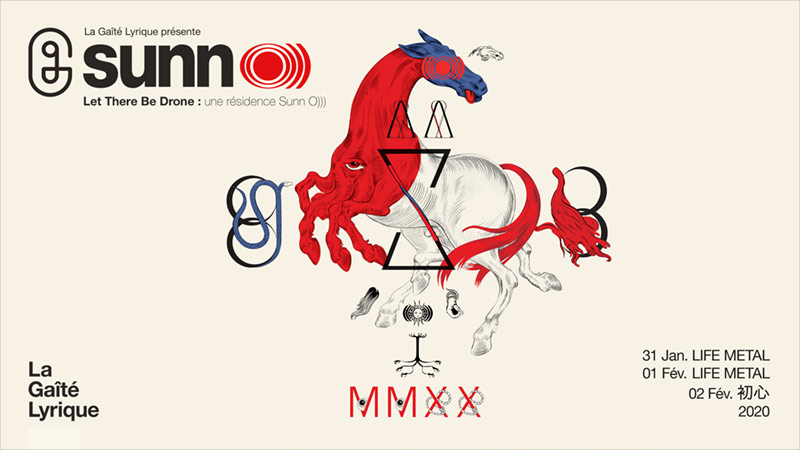 LET THERE BE DRONE : une résidence Sunn O)))

31 Jan / Life Metal
01 Feb / Life Metal
02 Feb / Shoshin (初心)
La Gaîté Lyrique is delighted to welcome once again the mythical drone metal band Sunn O))) who will present a weekend residency of concerts this coming January 31st, February 1st, and February 2nd 2020, three concerts previously unseen in France.
"Let There Be Drone: a Sunn O))) residency" is a weekend programmed by and with the legendary Seattle band. Founders Stephen O'Malley and Greg Anderson, accompanied by their collaborators, will present a weekend of concerts including two nights showcasing music from their monumental 2019 album "Life Metal" which has been highly acclaimed by fans and the press alike. Released April 2019, "Life Metal", their proclamation in honour of the powers that be, the manifestation of saturation harmonics and escallating bliss of the power and the glory of sound, was recorded and mixed with Steve Albini in Electrical Audio Studios Chicago and is a rare album which has analogue production from start to finish.
To close the residency weekend, the band will present a duo minimalist guitar concert in their tradition of Shoshin (初心) on February 2nd. As a duet, Stephen O'Malley and Greg Andersen embark on a minimalist adventure with two guitars only. No synths, no vocals, no guests, no frills. Just two en, two guitars, ten full stacks and five fog machines melting time and space with sculptural masses of sound and saturation. Additionally the residency weekend will present associated programming of support acts, films and other aspects (which will be announced shortly).
While Sunn O)))'s albums are already adventures in themselves, with compositions that regularly exceed 15-minute durations, their concerts and their legendary wall of vintage amplification are intense and utterly unique experiences.
Stephen O'Malley described them as such for The Guardian:
"They are deeply powerful, but our intention is not to be destructive. It's nourishment."
Distortion High Masses with electric guitars that can be "trials" for the body, considering how immense the vibrational field becomes. A Sunn O))) concert inevitably leaves deep traces of its passage: so imagine a weekend in residence…
In November 2015 a concert scheduled at Yoyo as part of RBMA festival was forced to be canceled after the horrific acts of insane fundamentalist violence which struck Paris at the time. It has taken four years to bring the band back under the conditions necessary to present their full vision, production, sound and concert on stage in Paris, and Sunn O))) are pleased to be doing that together with our partners at Gaîté Lyrique once more.
Tickets :
1 night 35€
Pass 2 nights (friday + sunday / Saturday + sunday) 62€
DIE HARD pass 3 nights (friday + Saturday + sunday + Jo Ratcliffe BSB promotional poster) 100€
La Gaîté Lyrique website :
• Residency: https://gaite-lyrique.net/festival/let-there-be-drone-une-residence-sunn-o
• Life Metal: https://gaite-lyrique.net/evenement/sunn-o-life-metal
• Shoshin (初心): https://gaite-lyrique.net/evenement/sunn-o-shoshin