SUNN O))) to perform at Ruhrtriennale, in Bochum DE 3rd September 2016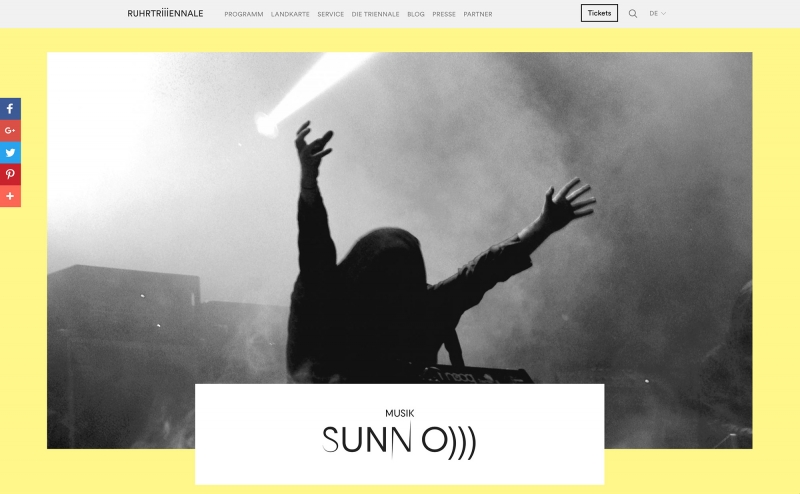 SUNN O))) has been invited to perform at the Ruhrtriennale under the artistic direction of the Dutch director Johan Simons. We will perform in the Turbinenhalle at an old power plant called Jahrhunderthalle Bochum. The theme of Mr. Simons' programme is "Seid umschlungen" (be embraced) – a gesture of social, political and geographical embracement.
website: https://goo.gl/EqGarj
ticketing: http://goo.gl/mRQsC6

Festival announcement in English.
Sunn O))) turn sound into a physical experience. The leading American drone or doom metal band made their name with their exaggerated use of drones, low frequency sounds of extended duration. The band position themselves between the first Western drone compositions of American composer La Monte Young and a heavy metal aesthetic, which they subvert with the extremely slow tempo of their playing. Their focus on extreme bass frequencies creates an extraordinary physical experience for the listener. Sunn O)))'s music can be just as intensely felt as heard. Their concerts are well known for being staged in a ritualistic atmosphere.
Last year the band caused an international sensation by collaborating with The Walker Brothers' singer Scott Walker. Their joint album 'Soused' gained worldwide acclaim. This year the band will present their new album 'Kannon' at the Ruhrtriennale. While Sunn O)))'s previous work has been characterized by abstract and atmospherically orientated approaches, 'Kannon' references religious concepts of Asian origin: 'Kannon' is one aspect of the Buddha, personified as the Goddess of Mercy, and can be understood to hear the sounds or cries of the world.
:::::
SUNN O))) will join several other EU dates in early-mid September, including a very special concert at "Labirinto della Masone" (Masone Labyrinth) opened in Fontanellato, near Parma in the northern region of Emilia-Romagna. More news soon on all of that.
Thank you for your attention, belief, interest and support.

SUNN O)))