SUNN O))) LET THERE BE DRONE (MULTIPLE GAINS STAGES) March 2019 Europe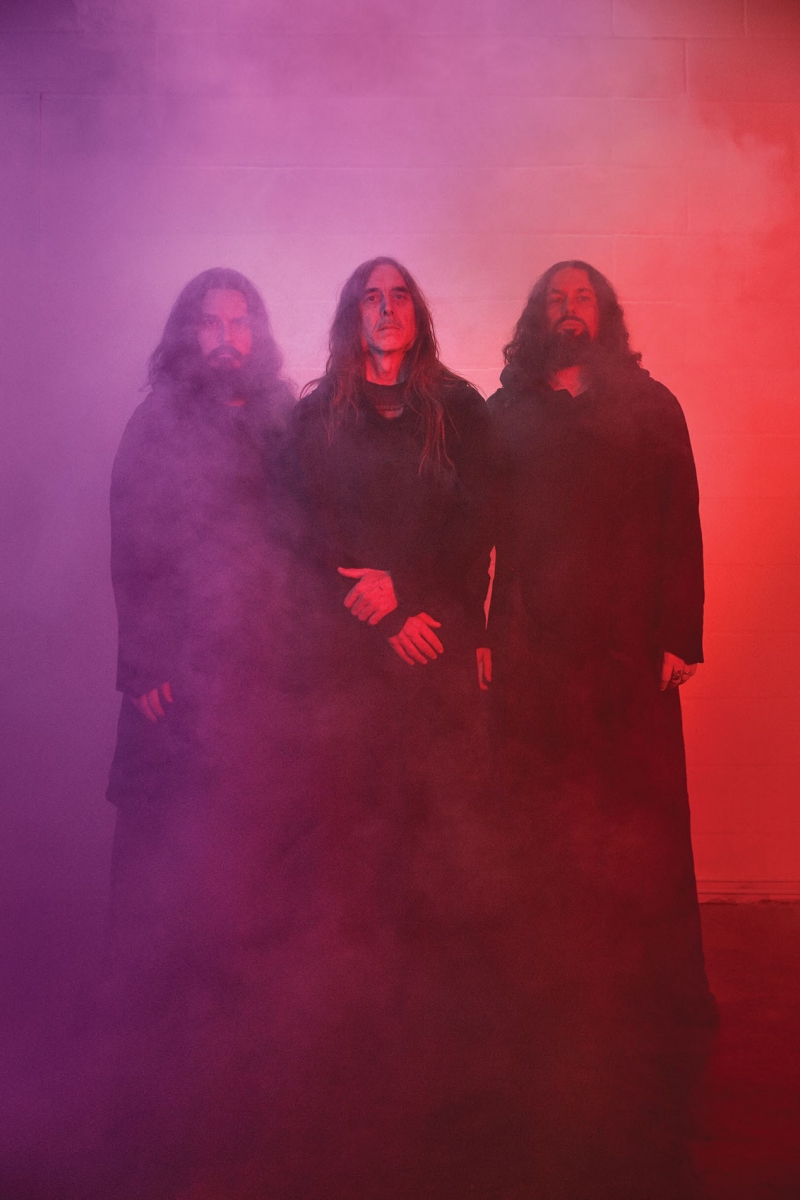 SUNN O))) announces their first tour of 2019.
LET THERE BE DRONE (MULTIPLE GAINS STAGES)
March 2019 Europe
Thu 02/28/2019 DE Frankfurt Mousonturm
Fri 03/01/2019 AT GrazElevate festival/Orpheum ° ~
Sat 03/02/2019 CZ Prague Divadlo Archa °
Sun 03/03/2019 DE Hamburg Kampnagel – K6 °
Mon 03/04/2019 NL Amsterdam Paradiso °
Wed 03/06/2019 FR Lyon L'Epicerie Moderne ÷
Thu 03/07/2019 FR Nancy L'Autre Canal ÷
Fri 03/08/2019 FR Dijon La Vapeur ÷
Sat 03/09/2019 FR Rouen QuasaRites Day/Le 106 •
Mon 03/11/2019 FR Tours Le Temps Machine §
Tue 03/12/2019 FR Nantes Stereolux §
Wed 03/13/2019 FR La Rochelle La Sirene §
Thu 03/14/2019 FR Bordeaux Le Rocher de Palmer §
Supports :
° TBC : Puce Mary https://puce-mary.bandcamp.com
÷ Golem Mecanique https://golemecanique.bandcamp.com
§ France https://standard-in-fi.bandcamp.com
• Linguo Agnota https://linguaignota.bandcamp.com/
~ Robin Fox presents Single Origin
SUNN O)))'s website/webstore sunn.southernlord.com
SUNN O)))'s album oeuvre online sunn O)))'s sunn.bandcamp.com
SUNN O)))'s live recordings online sunn-live.bandcamp.com
Tour produced by Ideologic Organ Music SAS
SUNN O))) booking in EU by Odyssey / Vincent Royers
SUNN O)))'s recordings are released by Southern Lord Recordings www.southernlord.com www.southernlordeurope.com
::::::
English
LET THERE BE DRONE (MULTIPLE GAINS STAGES)
All Hail Life Metal.
Sunn O)))) are pleased to present their first European tour since 2016, and the premier tour of their 2019-2020 season. Including their first ever French tour (hors Paris), returning to old haunt Kampnagel in Hamburg, mythical Paradiso in Amsterdam, as well as headlining Elevate festival in Graz, and Divadlo Archa Prague.
Formed in March 1998 Sunn O))) have been challenging the ways we think about music in the twenty years since. A synthesis of diverse: drone, metal, minimalism/maximalism verging on the edge of pure sonic ecstasy, meditation and trance through the power, beauty and colour of sound pressure emanating from their legendary Sunn O))) backline and their earth shaking tectonic compositions of existence, dedicated to the mysteries of life and the cosmos.
O))) has two core members : Stephen O'Malley and Greg Anderson, supported by a tribe of collaborators. From 1999's The Grimmrobe Demos to 2018's Downtown LA Rehearsal/Rifftape; from their now classic albums Black One (2006), Monoliths & Dimensions (2009), Soused (2014) & Kannon (2015) to their forthcoming to-be-revealed-but-recently-completed two 2019 album epics, founders Stephen O'Malley and Greg Anderson have forged paths and connections between the worlds of Metal, contemporary art, drone, new music, jazz and minimalism with startling results while remaining true to the eternal principles of volume, density, elasticity of time, blossoming of saturation viable only to the disciples and fetishists of electric guitar, synthesis, multiple gain stages and some of history's greatest pure valve amplification.
The current concert line-up extends around power trio of Stephen O'Malley (Guitar), Greg Anderson (Guitar), and their valve guru and long time collaborator Tos Nieuwenhuizen (Moog), aside selected special guests. Together they relentlessly pursue their exploration and elaboration of Sunn O)))'s legendary experiments with the physicality of sound in instrumental based live performances with remarkable events at some of their favourite venues, as well as concerts in singular events and spaces such as Italy's impressive cultural complex Labrinto Della Masone, Germany's Ruhrtriennale Festival of Arts, Royal Festival Hall & The Barbican in London, Bergen's Dømkirke and Manchester International Festival being a few emblematic examples.
Rejoin them in their glorious pursuit of the monumental heaviness.
-Etienne Ni Mhaille, 2018
::::::
Français
LA TRAVERSÉE DU DRONE (ÉTAGES DE GAINS MULTIPLES)
Ave Life Metal!
Sunn O))))) a le plaisir de présenter sa première tournée européenne depuis 2016, et la première étape de sa saison 2019 dont sa toute première tournée française (hors Paris), son retour au Kampnagel de Hambourg, au mythique Paradiso d'Amsterdam, et en tête d'affiche des festivals Elevate à Graz et Divadlo Archa à Prague.
Formé en mars 1998, Sunn O)))) remet en question depuis 20 ans la façon dont la musique est conçue. Une synthèse de sonorités diverses : le drone, le métal, le minimalisme/maximalisme sur la lame de l'extase sonore pure, de la méditation et de la transe à travers la puissance, la beauté et la couleur de la pression sonore qui sort de leur légendaire rangée arrière d'amplis et d'enceintes Sunn O))) et leurs compositions tectoniques, faisant trembler la terre, dédiées aux mystères de la vie et du cosmos.
O)))) compte deux membres principaux : Stephen O'Malley et Greg Anderson, accompagnés par une tribu de collaborateurs. Des Grimmrobe Demos en 1999 à Downtown LA Rehearsal/Rifftape en 2018; de leurs albums désormais classiques Black One (2006), Monoliths & Dimensions (2009), Soused (2014) & Kannon (2015) jusqu'à leurs deux albums à paraître en 2019, bien qu'ils n'aient pas encore été dévoilés, les deux membres fondateurs, Stephen O'Malley et Greg Anderson ont fait la jonction et établi de nouvelles passerelles entres le Métal, l'Art Contemporain, le Drone, la Musique Contemporaine, le Jazz et le Minimalisme avec des résultats surprenants, tout en restant fidèles à leurs éternels principes de volume, de densité et de masse sonore, d'élasticité du temps, d'émergence d'une saturation uniquement viable pour les disciples et fétichistes de guitare électrique, de synthèse, d'étages à gains multiples et parmi les meilleurs systèmes de pure amplification à valve de l'histoire.
La formation actuelle se déploie autour du trio Stephen O'Malley (Guitare), Greg Anderson (Guitare), et de leur gourou des valves et collaborateur de longue date Tos Nieuwenhuizen (Moog), entourés de leurs invités. Ensemble, ils poursuivent sans relâche l'exploration et l'élaboration de Sunn O)))), les expériences légendaires qu'ils mènent sur la physicalité du son à travers des lives dans leurs salles préférées, mais aussi des performances dans des espaces culturels singuliers comme le complexe culturel italien Labrinto della Masone, le Ruhrtriennale Festival of Arts en Allemagne, le Royal Festival Hall et le Barbican à Londres, Domkirke à Bergen et le Manchester International Festival entre autres exemples emblématiques.
Venez vous joindre à eux dans cette quête flamboyante du son monumental.
-Etienne Ni Mhaille, 2018 . Traduction : Valérie Vivancos